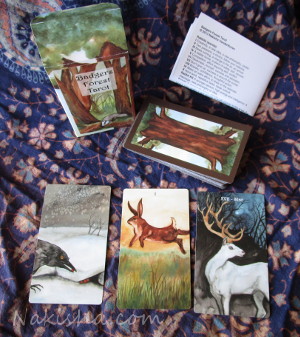 2013- The Badgers Forest Tarot

This full sized art deck is based on traditional tarot decks - with a twist. In this tarot, badgers are swords, foxes are cups, rabbits are wands and crows are pentacles. The major arcana includes; deer, bison, elk, ground hogs, chipmunks, opossums, bears and more. The backs are reversible and the cards are numbered and named for easy reference.

This is the fourth Tarot deck created by Nakisha, and the first in the "traditional" larger size, with the cards measuring close to 5" high by 2.75" wide.

78 brand new beautiful works of art have been created by Nakisha for this deck, taking three years to complete.

To purchase, please visit my Etsy shop-
Bluedogrose.Etsy.com

If not available on Etsy, these decks can be found at The Game Crafter.

The Badgers Forest Tarot is now available as an iphone app-
phuture.me/badgers-forest-tarot

The Badgers Forest Tarot was created with the generous support of Nakisha's fans and supporters through Kickstarter. Without their help, encouragement and selfless generosity this deck would have never have been so successful.
A special thank you to these backers for making this deck possible!
(names listed randomly)
Melinda McBride
Matt Adrian
Justine Jones
Monster Alice
Wendy Steiger
Nicole Pepper
Deke Keener
Moti Black
Becca Fraser
Jill Richards
Jessie SK
mimi boothby
Elizabeth Berg
winterchild
Laura Thurmond
Jessica Fure
Steven Reddy
Patricia Anahata Little, LMP
Tierney Sadler
Nancy Guidry
Joe Ricci
Thalassa
Melani Weber
Alta
Annie Dunlop
Fiona Crane
Dan S
Monty E.
Janet Stebbins
Kymmi Tuttle
Debi Scott
Laura
Raymond Ghirardo
Helga Sprung
Laurie MacDougall
Arwen
Judith Van Noate
Liz Coleman
Sharon Ricci
In Loving Memory of Mazzy
Mark Taormino

Lynn Turner
Mo!
Allen Garvin
Donna Ryan
Zach Barnhartt
Morwenna
Tracy Martin rabbitron.com
rachelcat
Tammy Dove
Leslie R. Hunter
Jef
Bolt and Frolic
Christine Jeannetot
Dyann J. Callahan
Barbra Barkus
Stefan Spelkens
Mona Sterling
Rebecca Kohn
Daniel Harper
Andrew Iverson
Jo Hinde
Marianne Heggernes
Jann Selleck
Jon Bocknek
Sandra B.
Jessica Lynn
S. Jordan
Inner Whispers
Terri Cook
Martha Darden
Melanie Rahr
Laura Osborne
Tanya Vanderhoeven
art4milkbones
Paldao/Vanderhoeven
Sherrie Vitulli
Faunus Family
Molly Goike
Laura Kuhn
Sue Wolfsong
Johnny Ricci


Sign up on the mailing list to be notified of news about upcoming projects by the artist Nakisha.